November 2022 Rocket Messenger
Greeting LNE Families, 
I hope you're enjoying the change in seasons as much as I am. I love transitioning to fall. It is one of my favorite seasons and I find myself reflecting on the people and things for which I am thankful. One of those things I am thankful for is having the opportunity to serve your Children. Thank you for sharing them with us!
School Improvement Focus:
Our continued areas of focus for the 2022-2023 school year continues to be: Effective Instruction, Culture for Learning and Equity. (See visual below). Our Focus aligns nicely with  the District Board Goals: *(That visual is also below.)
Increasing the graduation rate

Reduce suspensions

Reduce disproportionality among all students who have taken at least 1 honors course

Increase hiring staff from diverse backgrounds.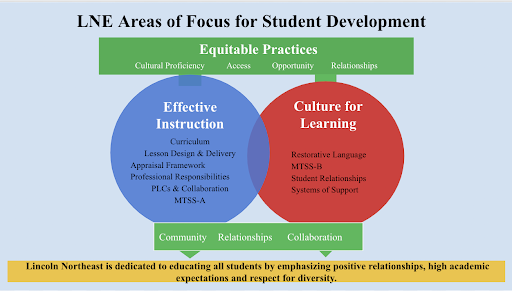 November 1st—December 9th

Student Council Winter Clothing Drive

November 3rd

Pre-ACT Testing: 10th Grade Students only
No school: 9th, 11th & 12th grade students

November 3rd—6th

Fall Musical Performances: 7:00 p.m. in the Northeast Auditorium

November 7th

NHS VolleyBRAWL Trounament from 6:00—9:00 p.m. in the North Gym

November 10th

Trades Fair from 6:00—8:00 p.m. in the North Gym

November 16th

Parent Teacher Conferences: 3:30—6:30 p.m.

November 18th
November 23rd—25th

No School: Thanksgiving Break

November 29th

One Act Play at 7:00 p.m. in the LNE Auditorium

December 8th

Vocal Music Candlelight Gala at 7:00 p.m. in the LNE Auditorium

December 15th

LNE Food Market from 3:00—3:30 p.m. in the LNE Commons
Instrumental Winter Expressions Concert at 7:00 p.m. in the LNE Commons

December 20th

Finals Exams

8:15 a.m. – 12:05 p.m.    Periods 1,2 & 3 8:15 – 12:05

December 21st

Final Exams – 8:15 a.m. – 10:45 a.m.   Periods 4 & 5

December 22nd

Final Exams – 8:15 a.m. – 10:45 a.m.   Periods 6 & 7

Last Day of Semester 1

December 23rd—January 3rd
LNE Upcoming Event Information
Musical and Music Department Updates
Tickets for the upcoming fall musical, Little Shop of Horrors, can be purchased at our Virtual Box Office. The Show runs November 3rd—5th at 7:00 p.m. and November 6th at 3:00 p.m. This iconic broadway classic is a fun musical comedy that involves some pretty naive characters and one large man-eating plant… and let's just say that this plant has one GIANT appetite! Please come support these outstanding Rocket musicians while also taking in a great show that is perfect for this spooky season!
Music Department Celebration!
Each year, approximately 3000 of the best high school musicians in the state audition for the Nebraska All-State Ensembles. Selection as a member of one of these ensembles is one of the highest music honors attainable in Nebraska. Congratulations to Sama Jabbar (11th), Carson Pierce (11th), and Preston Pierce (12th) on being accepted into the 2022 Nebraska All-State Band! We are so proud of these Rockets and invite anyone who knows them to show them that Rocket Pride!
The Northeast Fall play, Many Moons, runs October 11th – 14th at 7:00pm in the Northeast Drama Center, room 107. For more information or to purchase tickets visit  https://lne.lps.org/lne-theatre/
American Mathematics Contest
The American Mathematics Contest will be given on November 10th. Signup begins the week of October 3rd. All interested math students can sign up with their math teacher or see Mr. Eckman for more details.
Auto Club Free Oil Change Event
We know the holidays can be a tough time of year. To help ease some of that holiday stress, LNE Auto Club is hosting a free oil change event on Sunday, November 20th. If you feel like your family or someone you know could use this resource, use jump code GDOE to sign up today. Registration ends on November 16th.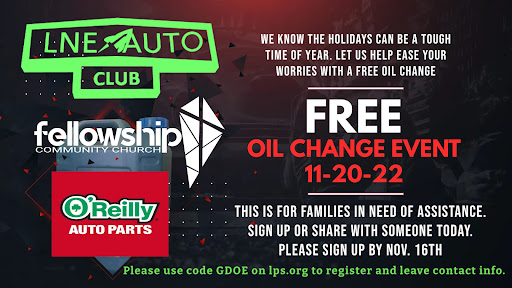 Star Strutter Show & Studder Sign-up!
The 2022 LNE Star Strutter show will be held on November 18th at 7:00 p.m. Come watch our Star Strutters and Studders strut their stuff! There will be a Studder informational meeting on Friday, November 4th in the pit after school at 3:15 p.m. for students that registered. Please contact coach Kristen Svehla if you have any questions at ksvehla@lps.org.
Parent Teacher Conferences
In-person Conferences will be held Wednesday, November 16th from 3:30 to 6:30. If you are unable to attend conferences in person you may reach out to your student's teacher to request a ZOOM meeting between 3:30-4:30. From 4:30 on teachers will only be taking in-person meetings.
STUCO Winter Clothing Drive
Northeast Student Council is hosting a winter clothing drive for our school community. From November 1st to December 9th, we will be collecting new/gently-used hats, gloves, socks, scarves, and coats for the Center for People in Need and our school clothing closet. If you are willing to donate lightly-used items, or purchase new winter gear, you are welcome to drop items off in the giant, marked boxes that will be outside of the main entrance and Counseling Center. Thank you for supporting the families of Northeast!
We invite everyone to come enjoy our student One Act presentation of I am a Pineapple, by Ken Sobol.
When: November 29th @ 7:00 p.m.
Where: Lincoln Northeast Auditorium
Cost: Free (but not cheap)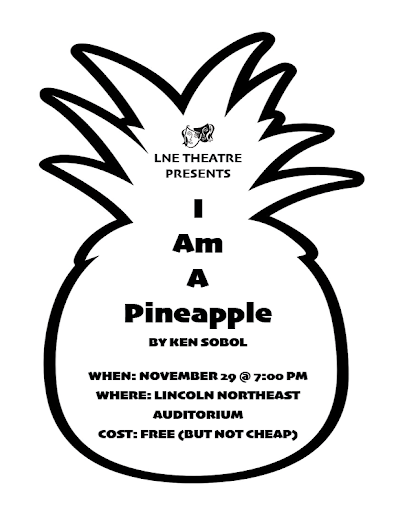 The Northeast CLC is partnering with UNL Honors to bring Northeast a free ACT prep club called ACTivate. The club will meet on Monday's, from 3:15-4:30pm, starting on Monday, October 3rd and will run until December 5th. UNL has developed 10 lesson plans that they will be using to help support students as they prepare for the ACT. It will be run by three near peer UNL Honors students and focus on tips and tricks, skill building and taking practice tests. All grades are welcome to participate. Students can sign up for ACTivate (and other clubs) using the jump code G1BM.
For Seniors planning on graduating there will be an Early Grad Meeting on December 8th during 3rd period in room 115. This meeting is important for all our early grads as they will be sharing important information regarding graduation and how you can stay informed once the semester is over.
What is a Senior Ad? Traditionally it is a section in the yearbook that includes a senior's baby photo, a current photo and a personal message from the person(s) who purchased the ad. It can also be a way to celebrate a team or group of friends. The person who purchases the ad gets to select the photos and the message. (All messages do need to meet our publishing guidelines.) If you have questions about the message, please contact Ms. Oquist (moquist@lps.org). Check out some examples from our previous yearbooks!
How do I create a senior ad? Use jumpcode RYY2 and select "Purchase a Senior Ad." There will be three options – "Have the School Design My Ad," "Design My Own Ad Online," and "Upload My Finished Ad."

"Have the School Design My Ad" – Submit your photos, captions, and a message, and the yearbook staff will put it together for you.
"Design My Own Ad Online" – You get to choose the layout, fonts, & colors. You'll upload your photos and be guided through the process.
"Upload My Finished Ad" – If you or someone in your family is skilled with design, you can submit a .jpeg of a finished ad.
You'll then be guided to the payment page, where you can confirm and purchase your ad. Any ads must be purchased by January 15, 2023.

How much is it? Prices for ad space start at $40. Please purchase and submit by January 15th, 2023 using jumpcode RYY2 at lps.org.
Seniors, the Signature Graduation website is live and ready to begin taking orders for your caps and gowns!
How Do I Place My Order? Go to https://signaturegraduation.com/ You will be able to order your cap, gown and tassel as well as other items to commemorate your Senior year. Your order will ship to the address of your choosing. All orders will be taken online.
Can I Order Apparel? Yes! If you order apparel (t-shirts and hoodies), typically it will ship to you 7-10 days after you place your order.
When Can I Order? You can order online NOW until May 17, 2023. Make sure to place your order before February 1, 2023 as there will be an added fee after that date.
When Will I Receive My Order? We will ship your order to you as soon as all items are packaged. Depending on items purchased it could be spring before your package is received. You will receive an email with tracking information to the email you provide on your order. Please watch your email for that information so you know when your package is coming.
Feel free to email Signature Graduation at sales@signaturegraduation.com if you have any questions!
Free & Reduced/Fee Waiver Cap and Gown Information
If you qualify for Free & Reduced lunch, please see Mrs. Ourada in the Main office to begin the fee waiver process to get a cap and gown at no cost. If you place an order through the online ordering system with Signature Graduation BEFORE you submit a fee waiver, you will not be able to get your money back.
For your planning purposes, the LNE Class of 2023 will graduate at Pinnacle Bank Arena on Sunday, May 28th, 2023 at 12:00 p.m. We look forward to celebrating your student's final year at Lincoln Northeast!
Please take the time to check your fines and fees and ensure that you have all overdue books or materials returned before the end of the school year. If you need to make a payment plan with your administrator, visit the main office to get that process started.
News and Notes from the Main Office
Accessing Class Information in ParentVUE
Parents and students can access Class Information (course description, grading practices, class tips, etc) on the web (preferred) or via the mobile app. Step-by-step directions can be found on this document or in these video tutorials.
Did you know not all screen time is the same? There is a significant difference between "active" screen time (engaging with or producing content) and "passive" screen time (consuming entertainment media). The American Academy Of Pediatrics (AAP) recommends families have thoughtful conversations around the purposes for using digital media and offers an online tool for creating a "Personalized Family Media Use Plan" .
See the LPS Parent Guide to Student Chromebook Use in LPS for more helpful information and strategies to support your student's Chromebook use at home.
Update Your Contact Information
Do we have the most current contact information for you? It's important your student's school has a working phone number, email address and mailing address so we can send you important school updates or contact you in the event of an emergency. If any of your contact information has changed, please contact your student's school office to update it as soon as possible.
Reporting Student Attendance, Helpful Reminders
Here are some helpful reminders for reporting student attendance:
Report a whole day's absence through ParentVue! You can submit a whole day's absence the day of the absence or in advance. Please do not submit early dismissal or partial day absences through ParentVue as we only check this periodically throughout the day.
Call us the night before and leave a message! You can call our Attendance Office anytime, day or night, and leave a message about your student's absence. This is especially helpful for early dismissals. The sooner we know about an early dismissal the better.
Should you need your student out at the last minute, we are always happy to help. Please know that there are times that a class is outside, at lunch or working somewhere else in the building and it can take time to track down your student. We ask for your patience in last minute situations.
Trust us, leave a message! We know it can be difficult to leave a message about your student's absence or concerns about an absence. If you leave a detailed message, our staff will get your student's attendance entered. We ask that you trust this process as we don't have time to call back each parent and confirm that we received your message. If you request a call back for further information, it is possible that you might not get a call back until the next day. As always, feel free to contact the Main Office if you have any immediate concerns if the Attendance Office line is busy.
To reach the Attendance Office, please call (402) 436-1303 Option #1
It's not too late to purchase a 22-23 Northeast Yearbook. Yearbooks are $75 and can be purchased using the jumpcode RYY2. If you would like to submit candid student photos for the yearbook, use jumpcode BEPB.
Fines/Fees
We encourage all students to check their fines/fees and get them paid or return overdue materials before the end of the school year. Students will be issued a fine for any materials not returned at the end of the school year. Students/parents are welcome to return materials at any point over the summer. Please call the Main Office for any questions you may have.
Great news! Students can now pay outstanding Synergy fees from StudentVUE! The students can log into StudentVUE, click on the Fee tab on the left, and then click the blue Pay Fees button at the top. That will open a new window to MySchoolBucks, where they will be able to enter payment information to pay for their fees. Functionality has not changed for parents… this is just newly added access for students.
A – B Mrs. Blume
C-G Mr. Neilly
H-L Mrs. Looky
M-P Ms. Iromuanya
Q-V Ms. Placke
W-Z Mrs. Jean Baptiste
ELL Mrs. Davis
UNL College Rep Visit – 12:40 pm (6th period ) Room 115 – Sign up in the Counseling Center
Early Grad Meeting – 9:50 a.m. in room 115
For Seniors planning on graduating there will be an Early Grad Meeting on December 8th during 3rd period in room 115. This meeting is important for all our early grads as they will be sharing important information regarding graduation and how you can stay informed once the semester is over.
2022–2023 National Testing Dates
The PSAT will be given at Lincoln Northeast on Saturday, October 15, 2022.
2022-2023 Sophomores & Juniors, please plan ahead. This test will take place the weekend of LPS Fall Break. For Juniors, the PSAT is the qualifying test for the National Merit Scholarship Program.
ACT National Test Dates & Registration Deadline
| Test Date | Registration Deadline |
| --- | --- |
| December 10th, 2022 | November 4th, 2022 |
| February 11th, 2023 | January 6th, 2023 |
| April 15th, 2023 | March 10th, 2023 |
| June 10th, 2023 | May 5th, 2023 |
| July 15th, 2023 | June 16th, 2023 |
SAT Test Dates & Registration Deadlines
| Test Date | Registration Deadline |
| --- | --- |
| December 3rd, 2022 | November 3rd, 2022 |
| March 11th, 2023 | February 10th, 2023 |
| May 6th, 2023 | April 7th, 2023 |
| June 3rd, 2023 | May 4th, 2023 |
Fee Waivers are available for students with financial need. Talk to your school counselor if you have any questions! You can also visit collegereadiness.collegeboard.org/sat or act.org for more detailed information on the SAT or ACT test.
2022-2023 FEWSS Calendar of Events
November: 7, 10, 14, 16 – LNE Student Immersive Field Trips to East Campus
December: 11th & 12th grade college & career STEM pathways applications are due, visit eccsp.lps.org for more information.
January: 23 & 25 – 9th grade Career Exploration "Connect the Dots"
April: 10, 12, 13, 14 – LNE Student Immersive Field Trips to East Campus
Now is a great time to get your Flu shot! Remember… if you or your student are ill, please stay home!
Flu Symptoms
Influenza (flu) can cause mild to severe illness, and at times can lead to death. Flu symptoms usually come on suddenly. People who have flu often feel some or all of these symptoms:
fever* or feeling feverish/chills
cough
sore throat
runny or stuffy nose
muscle or body aches
headaches
fatigue (tiredness)
some people may have vomiting and diarrhea, though this is more common in children than adults.
*It's important to note that not everyone with the flu will have a fever.
How Flu Spreads
Most experts believe that flu viruses spread mainly by tiny droplets made when people with flu cough, sneeze or talk. These droplets can land in the mouths or noses of people who are nearby. Less often, a person might get the flu by touching a surface or object that has the flu virus on it and then touching their own mouth, nose or possibly their eyes.
Should your student have an injury at any point during the school year that would require them to need use of the elevator, they may visit the Health Office to check out an elevator key. Students who do not return their elevator key will be subject to a $20 fine.
Athletic Office News & Notes
Visit our Rocket Spirit shop to check out the latest Rocket Gear!
There are many athletic and activity events happening at Lincoln Northeast. If you are interested check out our participation on Twitter!
News & Notes from the Library
Diverse Books for All!
Are you looking for books with diverse characters and themes? The MOSAIC is an annual collection of high-interest diverse books for preschool through high school students reviewed by LPS librarians. 
Look for the MOSAIC Multicultural Book Display link on the Northeast High School library website.

Browse the collection and download the ebooks or audiobooks.

Want a print copy of a book? Ask your school library staff.
Digital Citizenship Tips
Would you like to have a conversation with your student about staying safe online? Here are some questions to start the conversation:
What information should we share with others online and what information should we avoid sharing online (address, phone number, passwords, and other personal information)?
What websites should we use when we go online?
How can you protect your digital reputation and why do you want to protect it?
Want to sign-up for a club? Use jumpcode G1BM to sign up today!
Monday: Start Time 3:15 p.m.

Rocket House (Library): 7th, 14th, 21st, 28th
Cooking Club (052): 7th
Slam Poetry (110): 7th, 14th, 21st, 28th
ACTivate (Library): 7th, 14th, 21st, 28th
Sociedad Honoraria

Hispánica (236): 7th

Tuesday: Start Time 3:15 p.m. (*PLC start time 2:15 p.m.)

Board Games* (Library): 1st, 8th, 15th, 29th
Esports (011): 1st, 8th, 15th, 29th
FEWS2* (Library): 1st, 8th, 15th, 29th
Cedars* (commons): 1st, 8th, 15th, 29th

Wednesday: Start Time 3:15 p.m.

Rocket House (Library): 2nd, 9th, 16th, 30th
D&D (224): 2nd, 9th, 16th, 30th
Auto Club (056): 2nd, 9th, 16th, 30th
Korean Culture Club (111): 2nd, 9th, 16th, 30th
Campus Life (151): 2nd, 9th, 16th, 30th
Afghan Cultural Exchange (202): 30th

Thursday: Start Time 3:15 p.m.

Esports (011): 10th, 17th
Rocket House (Library): 10th, 17th
FEWS2 club (Library): 10th, 17th
PRISM club (250): 3rd, 17th

Friday: Start Time 3:15 p.m.

Board Games Club (Library): 4th, 11th, 18th
Step Chain (Commons): 4th, 11th, 18th