September 28th

Lifetouch Picture Retake Day – 8:00 a.m. – 1:00 p.m. @ LNE

September 29th

"This is Northeast" Multicultural Night: 5:30—7:30 p.m.
Vocal Music Showstoppers Concert: 7:00 p.m.

September 30th

CAP Enrollment Deadline *see details in Announcements
Last day to register for the October 22nd ACT test!

October 4th

LNE College Fair: 12:30 – 2:30 p.m.

October 5th

NHS Induction Ceremony – 7:00 p.m. LNE Auditorium

October 17th & 18th
October 22nd

National ACT Testing: Late registration ends on September 30th

October 27th

ASVAB Testing – 9:00 a.m. *Visit the Counseling Center for more information.

October 28th

Accuplacer Test – 12:15 p.m. in the LNE Media Center *Use jumpcode – RFPF to sign up today!

October 31st
Important Senior Information
Seniors, the last day to submit your Senior Picture for the yearbook is October 31st.
What is a senior photo?

Seniors can replace their school portrait with a portrait photo of their choice. Come to room 132 to see examples.

General recommendations: a head and shoulders photo of you with a simple background, no props, and high digital quality. Specific requirements can be found at the jump code.
How do I submit a senior photo?

Use jump code GYPL at lps.org and upload your photograph in its highest resolution/size. Photos must be submitted through this webpage by Oct 31, 2022! Any photos received after this date are not guaranteed to be included in the yearbook.

How much is it?

Free! Though some families elect to get professional photos taken at their own cost.
What is a Senior Ad? Traditionally it is a section in the yearbook that includes a senior's baby photo, a current photo and a personal message from the person(s) who purchased the ad. It can also be a way to celebrate a team or group of friends.
The person who purchases the ad gets to select the photos and the message. (All messages do need to meet our publishing guidelines.) If you have questions about the message, please contact Ms. Oquist (moquist@lps.org).
Click Here for Examples!
How do I create a senior ad? Use jumpcode RYY2 and select "Purchase a Senior Ad." There will be three options – "Have the School Design My Ad," "Design My Own Ad Online," and "Upload My Finished Ad."

"Have the School Design My Ad" – Submit your photos, captions, and a message, and the yearbook staff will put it together for you.
"Design My Own Ad Online" – You get to choose the layout, fonts, & colors. You'll upload your photos and be guided through the process.
"Upload My Finished Ad" – If you or someone in your family is skilled with design, you can submit a .jpeg of a finished ad.
You'll then be guided to the payment page, where you can confirm and purchase your ad. Any ads must be purchased by January 15, 2023.

How much is it? Prices for ad space start at $40. Please purchase and submit by January 15th, 2023 using jumpcode RYY2 at lps.org.
Seniors, the Signature Graduation website is live and ready to begin taking orders for your caps and gowns!
How Do I Place My Order? Go to https://signaturegraduation.com/ You will be able to order your cap, gown and tassel as well as other items to commemorate your Senior year. Your order will ship to the address of your choosing. All orders will be taken online.
Can I Order Apparel? Yes! If you order apparel (t-shirts and hoodies), typically it will ship to you 7-10 days after you place your order.
When Can I Order? You can order online NOW until May 17, 2023. Make sure to place your order before February 1, 2023 as there will be an added fee after that date.
When Will I Receive My Order? We will ship your order to you as soon as all items are packaged. Depending on items purchased it could be spring before your package is received. You will receive an email with tracking information to the email you provide on your order. Please watch your email for that information so you know when your package is coming.
Feel free to email Signature Graduation at sales@signaturegraduation.com if you have any questions!
Free & Reduced/Fee Waiver Cap and Gown Information
If you qualify for Free & Reduced lunch, please see Mrs. Ourada in the Main office to begin the fee waiver process to get a cap and gown at no cost. If you place an order through the online ordering system with Signature Graduation BEFORE you submit a fee waiver, you will not be able to get your money back.
For your planning purposes, the LNE Class of 2023 will graduate at Pinnacle Bank Arena on Sunday, May 28th, 2023 at 12:00 p.m. We look forward to celebrating your student's final year at Lincoln Northeast!
Please take the time to check your fines and fees and ensure that you have all overdue books or materials returned before the end of the school year. If you need to make a payment plan with your administrator, visit the main office to get that process started.
The Northeast CLC is partnering with UNL Honors to bring Northeast a free ACT prep club called ACTivate. The club will meet on Monday's, from 3:15-4:30 p.m., starting on Monday, October 3rd and will run until December 5th. UNL has developed 10 lesson plans that they will be using to help support students as they prepare for the ACT. It will be run by three near peer UNL Honors students and focus on tips and tricks, skill building and taking practice tests.  All grades are welcome to participate. Students can sign up for ACTivate (and other clubs) using the jump code G1BM.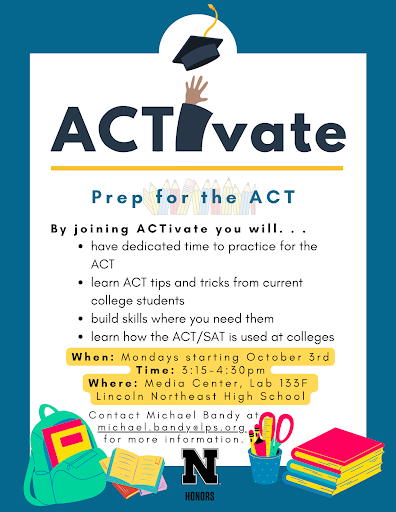 Lifetouch Picture Retake Day
Picture retake day is Wednesday, September 28th! Any student who has not yet had their Lifetouch picture taken should plan to have their picture taken that day. Students who do not have their picture taken by Lifetouch will not be in the Northeast Yearbook.
Student Lifetouch Pictures
Lifetouch student pictures have arrived! If you purchased pictures, Students can pick them up from the Main Office. We also have student picture proofs for each student who took a lifetouch picture but have not yet ordered.
Lincoln Northeast is hosting its annual fall food drive from September 19th to October 7th! Donations will be collected by the Student Council and distributed to the Northeast community, Little Free Pantries, and Food Bank of Lincoln. We are looking for non-perishable, canned, and dry goods to fill our blue donation barrels. We need your help to meet our goal and provide much needed meals for our community! Some items of need include:
Canned meats & proteins like fish and beans
Peanut butter
Olive or canola oil
Spices
Coffee and Tea
Dry goods (pasta, rice, box meals, etc)
Bread and cereal
Healthy snacks like granola bars, nuts, or dried fruit
Anyone still interested in joining the LNE eSports team, please feel free to join us on Tuesdays and Thursdays in Room 011 at 3:15 p.m. We still have open computers for Rocket League and League of Legends, and starting in October, we will be once again offering Overwatch for anyone who has been waiting. Please contact Mr. Andersen in Room 224, or one of our current eSports Team Leaders, with any additional questions.
"This is Northeast" - Multicultural Night
We invite all our Northeast families and students to our upcoming "We are Northeast" multicultural night on Thursday, September 29th from 5:30—7:30 p.m. There are going to be food trucks, community organizations, interactive booths, music and student performances. The intent of the event is to bring the community together, uplift our students' voices and connect with families. We want to show off the things that make Northeast great and unique. Hope to see you there!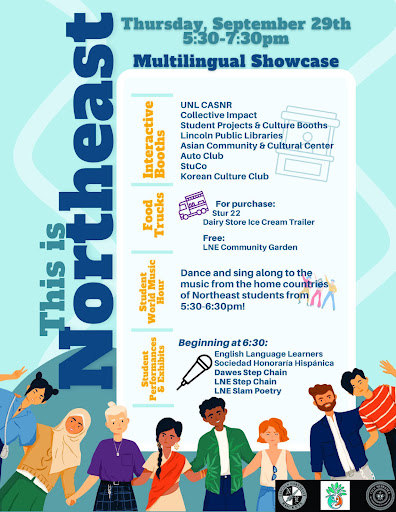 The Lincoln Northeast Choirs will be performing in their first concert of the year next Thursday, September 29th at 7:00 p.m. here in the LNE Auditorium. With performances by LNE Singers, VNH, Dynamix, Concert Choir, and Chamber Singers. We will be featuring music from across the globe and from a wide variety of genres and histories, including music of composers from right here in Lincoln. This is a concert you won't want to miss! Be sure to come support your friends in all our LNE Choirs, we can't wait to see you there!
It's not too late to purchase a 22-23 Northeast Yearbook. Yearbooks are $75 and can be purchased using the jumpcode RYY2. If you would like to submit candid student photos for the yearbook, use jumpcode BEPB.
Mark your calendars for ASVAB Testing on October 27th. Visit the counseling Office today to sign up!
Northeast will be administering the Accuplacer Test on October 28th. Use jump code RFPF to sign up today. For any questions please visit the Counseling Center.
Student Attendance Reminders
Here are some helpful reminders for reporting student attendance:
Report a whole day's absence through ParentVue! You can submit a whole day's absence the day of the absence or in advance. Please do not submit early dismissal or partial day absences through ParentVue as we only check this periodically throughout the day.
Call us the night before and leave a message! You can call our Attendance Office anytime, day or night, and leave a message about your student's absence. This is especially helpful for early dismissals. The sooner we know about an early dismissal the better.
Should you need your student out at the last minute, we are always happy to help. Please know that there are times that a class is outside, at lunch or working somewhere else in the building and it can take time to track down your student. We ask for your patience in last minute situations.
Trust us, leave a message! We know it can be difficult to leave a message about your student's absence or concerns about an absence. If you leave a detailed message, our staff will get your student's attendance entered. We ask that you trust this process as we don't have time to call back each parent and confirm that we received your message. If you request a call back for further information, it is possible that you might not get a call back until the next day. As always, feel free to contact the Main Office if you have any immediate concerns if the Attendance Office line is busy.
To reach the Attendance Office, please call (402) 436-1303 Option #1
Want to sign-up for a club? Use jumpcode G1BM to sign up today!
Monday: Start Time 3:15 p.m.

Rocket House (Library): 7th, 14th, 21st, 28th
Cooking Club (052): 7th
Slam Poetry (110): 7th, 14th, 21st, 28th
ACTivate (Library): 7th, 14th, 21st, 28th
Sociedad Honoraria

Hispánica (236): 7th

Tuesday: Start Time 3:15 p.m. (*PLC start time 2:15 p.m.)

Board Games* (Library): 1st, 8th, 15th, 29th
Esports (011): 1st, 8th, 15th, 29th
FEWS2* (Library): 1st, 8th, 15th, 29th
Cedars* (commons): 1st, 8th, 15th, 29th

Wednesday: Start Time 3:15 p.m.

Rocket House (Library): 2nd, 9th, 16th, 30th
D&D (224): 2nd, 9th, 16th, 30th
Auto Club (056): 2nd, 9th, 16th, 30th
Korean Culture Club (111): 2nd, 9th, 16th, 30th
Campus Life (151): 2nd, 9th, 16th, 30th
Afghan Cultural Exchange (202): 30th

Thursday: Start Time 3:15 p.m.

Esports (011): 10th, 17th
Rocket House (Library): 10th, 17th
FEWS2 club (Library): 10th, 17th
PRISM club (250): 3rd, 17th

Friday: Start Time 3:15 p.m.

Board Games Club (Library): 4th, 11th, 18th
Step Chain (Commons): 4th, 11th, 18th
For the most updated announcements, your student can view a LIVE version of the Rocket Weekly on their Google Classroom.