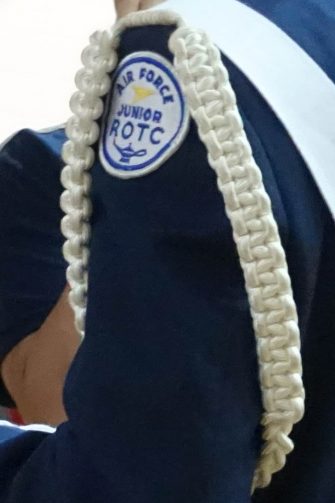 In JROTC, cadets have the opportunity to "own" a piece of the program by literally being in charge of an aspect, whether that be for our community service piece, our advertising, our workouts, in-class leadership opportunities, or even to be in charge of over $400,000 worth of uniforms. Where can you get such hands-on experience anywhere else in high school?
In JROTC, cadets have the opportunity to go on a number of highly enjoyable field trips. We go on helicopter rides, a trip to Kansas City to the World War I museum, and to Offutt AFB to see how a base operates in the real world, among many other field trips.
In JROTC, cadets have the opportunity to learn about the science of flight, the exploration of space, survival skills, orienteering skills, leadership skills, communication skills, and life skills over the course of four years in our program. It is a very diverse curriculum that has something of interest for everyone.
In JROTC, cadets have the opportunity to develop skills that will serve them well for the rest of their lives, such as leadership, self-discipline, attention to detail, tolerance for those who are different than themselves, and teamwork. These skills are valuable whether you are going to be a farmer, a cook, an accountant, or a doctor – they are real lifelong skills.
More information about the Lincoln Air Force ROTC is available on their website.