March 2022 Rocket Messenger
Hello Rocket Families, 
As the end of the quarter 3 draws near, please encourage your student to reach out to her/his teacher should they have any questions about assignments, missing work, etc. It is important for them to advocate for and receive any support they may need as we near Quarter 4.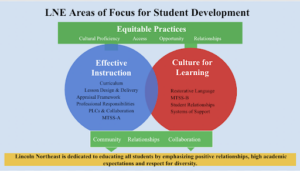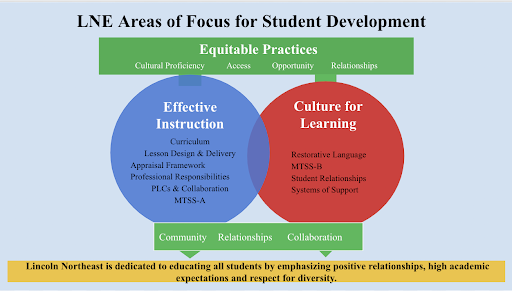 Our focus for this school year continues to be: Effective Instruction, Culture for Learning and Equity. 
News and Notes
Face Coverings
As you know, face coverings are recommended but no longer required. There will be disposable masks available for students who want them.
Equity
Sister Circles is a group of young Ladies of Color who meet regularly with Adult Ladies of Color who serve as mentors for them. I continue to hear what an amazing opportunity this has been for some of our Young Ladies, as well as our Adult Mentors. One Mentor told me last week how she is so enjoying connecting with our Young Ladies and doing so has been an absolute joy for her!
Student Equity Advisory Group: This is a small group of Student Leaders who have met with me since September. They have facilitated important conversations around equity. Some of the work they've done is to survey their peers regarding micro-aggressions and provide opportunities for follow up conversations. These young leaders are currently in the planning stages of re-making and up-dating posters found around LNE that are made up of a variety of  Students who are involved in Activities and Clubs. It has been a joy for me to get to work with them throughout the year. They have great ideas and insights. 
Gradebook Codes
As we head into quarter 4, here is a reminder regarding what the codes in the gradebook mean. 

Parent Survey
The Parent Survey is the data collection for Parent Involvement. This data is collected  for NDE from school districts. Lincoln Public Schools must submit data collected from parents during the 2021-2022 school year.  The LPS survey can be taken at this link – Take the survey
Please complete the survey by  April 1st, 2022. Note that there is also a Spanish translation of the survey, which can be accessed by clicking on the dropdown menu on the top right corner of the survey screen.
Thank you for taking the time to complete this survey.
Spring Break
March 14th-18th: I hope you will take an opportunity to recharge a little during the week away from school. It's hard to believe that only one final quarter of this school year is before us.
March 7th

No School: State Basketball Tournaments

March 8th-11th

Spring Play: 7:30 p.m. in the LNE Black Box Theater
Media Center closed to begin renovations

March 14th-18th
March 21st
March 21st-25th

LNE Star Strutter Auditions

March 24th

LNE Food Market: 3:00 p.m. in the LNE Commons

March 26th

Spring Swing: Jazz/Swing Dance Event

March 28th-31st
April 1st

Faculty vs. Faculty basketball game: 6:00 p.m. in the North Gym
LNE Upcoming Event Information
LNE Prom Updates
LNE Juniors and Seniors are invited and are allowed 1 guest/date per person. Students will register their guest/date with LNE when they purchase their tickets. Guests must be in high school or be under 21 to attend.
All fines and fees must be paid prior to ticket purchase. A fines/fees letter will be sent to any students with outstanding fines/fees at the beginning of this month. We encourage all students and parents to check their student's fines and fees through Parentvue prior to the week of ticket sales to ensure they have addressed any issues. If you need to make a payment plan, please call the Main Office and we will put you in touch with your student's administrator.
Prom ticket sales will be during lunch and after school beginning Friday, April 1st and will end on Thursday, April 7th.
LNE Cheer Try-outs
Hello Rockets and future Rockets! We are already looking forward to our 2022- 2023 season tryouts and we cannot wait to kick off another year of cheer at LNE! Tryouts will be held March 28th-30th from 4:00-6:00 p.m. with the final tryout being held on March 31st.
For try-out information and paperwork please join our Google Classroom using the code yzxfjva. Please contact Coach Jessica Rowe at jrowe3@lps.org if you have any questions or concerns!
LNE Star Strutter Try-outs
Auditions for the 2022-2023 Lincoln Northeast Star Strutters are quickly approaching! Star Strutter audition dates are Monday, March 21st-Friday, March 25th. Practices will be March 21st-24th from 3:15-5:30 p.m. in the Center Gym. The final audition date will be Friday, March 25th at 5:00 p.m. Auditions are open to current 8th-11th graders who are enrolled to attend LNE for the 2022-2023 school year.
Spring Swing Event
The Spring Swing is a Big Band inspired jazz festival. LNE will host other LPS high school jazz bands as well as groups from NWU and UNL. In addition to being a concert opportunity, it is also an opportunity to lace up your dancing shoes and cut a rug! The event is open from 3:00-10:00 p.m. Tickets are $8 for adults, $5 for students and $3 for senior citizens and children. Concessions will be available for purchase. We hope to see you there!
Faculty vs. Faculty Basketball Game
It is with great excitement that Ms. Applebee and Mr. Uher are announcing a fundraiser event for the Backpack Program this year! This year, we have the opportunity to coop with Mickle Middle School and play in a Faculty vs Faculty basketball game. We'll be hosting the staff basketball game at the "Launch Pad" that LNE and Mickle students, families, and community members can attend to watch.
Our halftime entertainment will be a game of knockout that students can play. We also hope to get a bit more participation with this type of activity. All of the proceeds raised will go towards both schools' Backpack Programs.
Here are the main details to know:
When- Friday, April 1st @ 6pm (likely ending around 7:30-8:00pm)
Where- LNE main gym-"The Launch Pad"
What- LNE staff vs Mickle staff basketball game (15-20 minute halves, running clock)
Why- Raise money for the Backpack Program (all proceeds go to the Backpack Program).
$3 admission at the door to watch. $1 buy in to play knockout at half time, winner receives a gift card.
Northeast works with Signature Graduation to provide you with graduation announcements and the ordering of caps and gowns. If you order apparel on the website, your apparel should arrive within two weeks of your ordering date. Otherwise, you will receive your other products sometime later in the year when all items are available to ship out. Your orders will be sent directly to the address you choose. Please visit https://signaturegraduation.com/ for more information.
Free & Reduced/Fee Waiver Cap and Gown Information
If you qualify for Free & Reduced lunch, please see Mrs. Ourada in the Main office to ask about the fee waiver process to get a cap and gown at no cost.
If you place an order through the online ordering system with Signature Graduation BEFORE you submit a fee waiver, you will not be able to get your money back.
For your planning purposes, the LNE Class of 2022 will graduate at Pinnacle Bank Arena on Saturday, May 28th, 2022 at 3:30 p.m. We look forward to celebrating your student's final year at Lincoln Northeast!
Prom is fast approaching and students who have outstanding fines and fees will not be able to purchase tickets from Prom. We encourage all students to check their fines/fees and get them paid or return overdue materials before tickets go on sale in April.
FAFSA- Make Sure You Complete the FAFSA Process!
Getting financial aid for college involves more than completing the Free Application for Federal Student Aid (FAFSA). Complete each step of the process so that you don't miss out on money for college.
If you haven't already, complete your 2022-23 FAFSA at studentaid.gov using 2020 income tax data. Before you start, you and a parent must each create a Student Aid account. If you need help with your FAFSA, contact EducationQuest to set up a free virtual appointment.
Expect a Student Aid Report (SAR) via an email link. The SAR acknowledges that your FAFSA was received and lets you know if you need to take further action before the form can be processed.
You might receive a verification notice from the college(s) you listed on your FAFSA requesting documents to verify your FAFSA information. The college will not process your financial aid until you provide required documents.
Watch for financial aid award notifications. Once you're accepted for admission to the colleges you listed on your FAFSA, they will notify you of the types and amounts of financial aid they're offering.
Watch your email and college student portal(s) carefully for important details from colleges about admission and financial aid.
News and Notes from the Main Office
Testing Season is Upon Us!
It's said a body needs 8 hours of sleep every night. That's especially true during the testing season. Student Chromebooks also need a good night of charging. Please help your students remember to bring their Chromebooks, fully charged, every day.
Walled Gardens
There are many "layers" of digital protections that follow your student as they progress through their life in LPS. Informed by federal/state laws, and guided by LPS Board of Education policies, the District builds a digital "walled garden" where students are free to express themselves while also keeping their data secure.
Fines/Fees
Prom is fast approaching and 11 & 12 grade students who have outstanding fines and fees will not be able to purchase tickets for Prom. We encourage all students to check their fines/fees and get them paid or return overdue materials before the end of the school year.
Great news! Students can now pay outstanding Synergy fees from StudentVUE! The students can log into StudentVUE, click on the Fee tab on the left, and then click the blue Pay Fees button at the top. That will open a new window to MySchoolBucks, where they will be able to enter payment information to pay for their fees. Functionality has not changed for parents… this is just newly added access for students.
Accessing Class Information in ParentVUE
Parents and students can access Class Information (course description, grading practices, class tips, etc) on the web (preferred) or via the mobile app. Step-by-step directions can be found on this document or in these video tutorials.
Student Parking Reminders
A reminder that the LNE student parking lot is for 11th & 12th grade students who have purchased a parking tag. The lot is open to these students on a first-come-first-served basis. Purchasing a parking tag does NOT guarantee your student a parking spot. Tickets will be issued for students who do not have a parking decal or are parking outside of the assigned student parking area.
Our Media Center will be undergoing a renovation to update facilities in order to better incorporate our new F.E.W.S.S. program. Construction will begin over Spring Break which means the Media Center will be closed to students and staff 4th Quarter through the summer. We are thrilled to have such an amazing opportunity and encourage you to look at the renovation concepts below.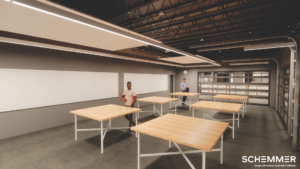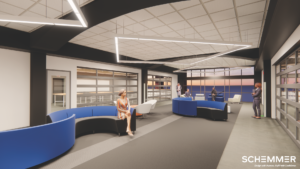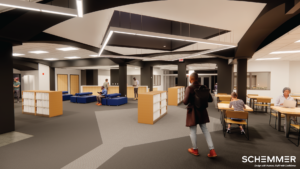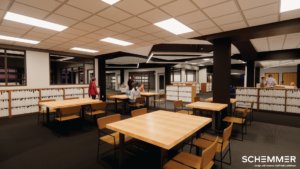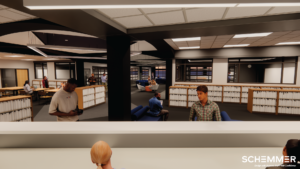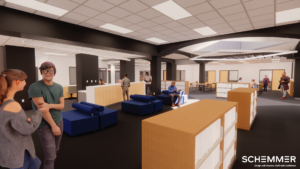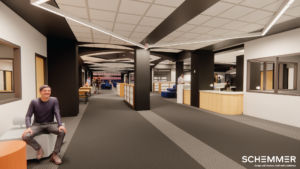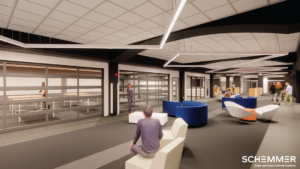 Check out these articles highlighted by our gifted facilitator, Jennifer Will.
Congrats to the following students for earning awards at the Scholastic Art Awards in Omaha!
Most scholarships are based on academics, but others are based on community service, school involvement, or talent in art, dance, music, or athletics. Some are based on financial need as determined by the FAFSA (Free Application for Federal Student Aid).
It's time to start applying for scholarships. Here's where you can find them:
ScholarshipQuest at EducationQuest.org features over 2,000 Nebraska-based scholarships. After you create a profile, you'll be matched with scholarships that fit your criteria.
Student Google Classroom (2022, 2023, 2024, 2025). Visit regularly to check on local and national awards.
The college you plan to attend. Contact the school for a list of scholarships they provide and application procedures.
National search sites such as College Board, Peterson's and Chegg.
Other resources could include your coach, clubs and organizations, and your parents' employers and civic organizations.
Two easy-to-apply-for scholarships from EducationQuest
Don't miss out on these scholarships for Nebraska students in grades 9-12:
Get Social Scholarship: By following EducationQuest on Facebook, Twitter and Instagram, you can enter into a drawing for a $500 scholarship each time we hit another 250 followers.
Scavenger Hunt Scholarship: To apply for this scholarship, create a ScholarshipQuest profile at EducationQuest.org and then scavenge around the EducationQuest website to find answers to questions on a survey. The deadline to apply is March 15th. We'll draw two winners from those who answer all questions correctly.
Other Upcoming Scholarship Deadlines
Seniors

Complete the FAFSA (using 2020 tax returns) at FAFSA.gov. FAFSA Resources
Expect financial aid award notifications from the colleges you listed on your FAFSA.
Apply for scholarships.

Juniors
Many high school students and families are thinking ahead to preparation for the ACT, the nation's most popular college entrance exam. All LPS students take the ACT exam at no charge as a junior in high school as part of statewide testing. Students also can pay a fee (or see their high school counselor to apply for a fee waiver) to take the test on national testing dates if they choose.
We would like to inform you about district-approved ACT preparation opportunities and college planning resources for students in Lincoln Public Schools.
In addition to the ACT-embedded curriculum your child receives within the high school courses, here are additional approved resources for ACT prep and college planning.
ACT Practice tests are available at the bottom of the page.
ACT Test Prep at Lincoln Northeast
There will be a free ACT Prep class opportunity at Lincoln Northeast in partnership with Educational Talent Search (ETS) on March 29, 2022.
Juniors received information about the prep class during Course Selection the week in February. For more information contact Claire Bartels with Educational Talent Search.
Free college planning resources, including scholarship searches, college profiles, and assistance with the FAFSA (Free Application for Federal Student Aid). Headquarters in Lincoln at 1300 O Street – phone: 402-475-5222.
2021-22 ACT Testing Dates & Registration Deadlines
June 11th, 2022: May 6th, 2022
July 16th, 2022: June 17th, 2022
SAT Testing Dates and Registration Deadlines
May 7th, 2022: April 8th, 2022
June 4th, 2022: May 5th, 2022
Fee Waivers are available for students with financial need. Talk to your school counselor if you have any questions! You can also visit collegereadiness.collegeboard.org/sat or act.org for more detailed information on the SAT or ACT test.
Athletic Office News & Notes
Visit our Rocket Spirit shop to check out the latest Rocket Gear!
There are many athletic and activity events happening at Lincoln Northeast. If you are interested check out our participation on Twitter!
News & Notes from the Library
No Fines at the Lincoln City Libraries!
LPS students can check out up to four items from the Lincoln City Libraries and not incur any fines. It's super simple! Just give the city librarian your student ID number when checking out items.
Digital Citizenship Tips
Password security is one of the key components of Digital Citizenship instruction in LPS. Students learn strategies to create strong passwords, and how to avoid having their password stolen. Create a plan to manage passwords and discuss what makes a password hard for others to guess.
The Health Office Needs Your Student's Covid-19 Vaccination Information!
Parents, if your student receives their COVID-19 vaccination, please have them bring a copy of their completed vaccine record to the Health Office so we can enter the information into Synergy. You may also email a screenshot to the school nurse at knelson@lps.org. PLEASE be diligent about checking your child's temperature and for possible Covid symptoms DAILY, BEFORE school and keep them home if they exhibit any symptoms.
Monday: Start Time 3:15 p.m.

Rocket House (Library): 7th, 14th, 21st, 28th
Cooking Club (052): 7th
Slam Poetry (110): 7th, 14th, 21st, 28th
ACTivate (Library): 7th, 14th, 21st, 28th
Sociedad Honoraria

Hispánica (236): 7th

Tuesday: Start Time 3:15 p.m. (*PLC start time 2:15 p.m.)

Board Games* (Library): 1st, 8th, 15th, 29th
Esports (011): 1st, 8th, 15th, 29th
FEWS2* (Library): 1st, 8th, 15th, 29th
Cedars* (commons): 1st, 8th, 15th, 29th

Wednesday: Start Time 3:15 p.m.

Rocket House (Library): 2nd, 9th, 16th, 30th
D&D (224): 2nd, 9th, 16th, 30th
Auto Club (056): 2nd, 9th, 16th, 30th
Korean Culture Club (111): 2nd, 9th, 16th, 30th
Campus Life (151): 2nd, 9th, 16th, 30th
Afghan Cultural Exchange (202): 30th

Thursday: Start Time 3:15 p.m.

Esports (011): 10th, 17th
Rocket House (Library): 10th, 17th
FEWS2 club (Library): 10th, 17th
PRISM club (250): 3rd, 17th

Friday: Start Time 3:15 p.m.

Board Games Club (Library): 4th, 11th, 18th
Step Chain (Commons): 4th, 11th, 18th
Project Walk Together

Project Walk Together will be held on March 4th from 5:30-7:30 p.m., this event will be showcasing students' projects in various businesses located in the 48th Street business district. Questions? Contact Michael Bandy.

LNE Auto Club Car Show

The LNE Auto Club Car Show will be held Sunday, April 24th from 1:00-4:00 p.m. in the Lincoln Northeast parking lot. There will be domestics, imports, motorcycles, off-road, performance, food and vendors. Come help support auto students and the community! If you want to sponsor or pre-register, contact us at LNEAutoClub@gmail.com.
Rocket House is our tutoring program by our own Lincoln Northeast teachers. We offer the social studies wing every Monday, Wednesday and Thursday from 3:00-4:30 p.m. for homework help. 
Subjects offered:
Math
English
Spanish
Science
Social Studies
Business