February 2022 Rocket Messenger
Greetings Rockets,
It feels good to have second semester successfully underway! As you know, January proved to be packed full of a variety of activities from Show Choir, to speech tournaments to Junior ROTC events to athletic competitions and Community Learning Center (CLC) after school clubs and much more. It has been good to have Students engaged in their extracurricular activities and to see the calendar more full compared to this time a year ago.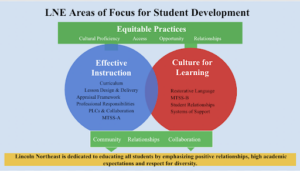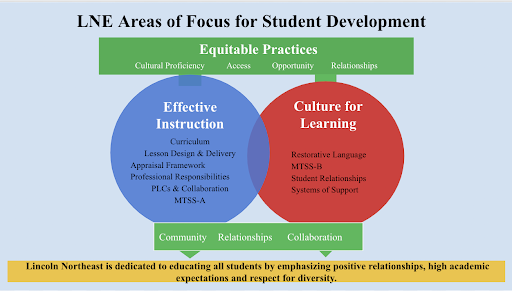 Focus
LNE continues to have a focus on Instruction, Culture for Learning and Equity.
Increasing time in class and decreasing time out of class
Having students in class is an important first step to increasing student engagement. To that end, we will continue our focus on helping Students arrive at class on time and minimize out of class movements.
Before and After School supervision
Just a reminder that our Doors open at 7:15 and we ask that Students be out of the building by 3:45.
February 6th

Career Academy Open House: 1:00 – 3:00 p.m. at TCA

February 8th

LNE Solo & Ensemble Recital Night: 6:00 – 8:00 p.m. at LNE

February 10th

Parent Teacher Conferences, via zoom/phone by appointment only:  3:30 – 6:30 p.m.

February 16th

2022-2023 Cheer & Star Strutter Try-out Parent/Student Meeting: LNE Commons

6:00 p.m. – Star Strutter Meeting
7:00 p.m. – Cheerleading Meeting

February 19th

LPS Solo & Ensemble District Competition: TBA at LNE

February 23rd

Spring Honors Convocation: 7:00 p.m. in the LNE Auditorium

February 24th

LNE Food Market: 3:00 – 3:30 p.m.
Instrumental Music Concert: 7:00 p.m. in the LNE Auditorium

March 7th

No School: State Basketball Tournaments

March 8th-11th

Spring Play: 7:30 p.m. in the LNE Black Box Theater

March 14th-18th
LNE Upcoming Event Information
Career Academy Open House
Applications are now open for The Career Academy. If you are interested in learning more about the program, The Career Academy will be holding an open house on Sunday, February 6th from 1 to 3pm. All students and families are welcome. Visit the TCA website for more information.
Parent/Teacher Conferences
Quarter 3 conferences are February 10th from 3:30 to 6:30pm. This round of conferences will be held via zoom or telephone conference. Parents can sign-up for a conference time using the Sign-up Genius links below. If you would prefer a phone conference, please sign up using the links below and email lneconferences@lps.org to request that your meeting be via telephone.
Teachers Last Names A – L: https://www.signupgenius.com/go/30E0448A5AD28A1F58-parent1
Teachers Last Names M – Z: https://www.signupgenius.com/go/30E0448A5AD28A1F58-parent
If you have any questions or concerns feel free to email lneconferences@lps.org or give the Main Office a call at (402) 436-1303, Option #2.
LNE Cheer Try-outs
Hello Rockets and future Rockets! We are already looking forward to our 2022- 2023 season tryouts and we cannot wait to kick off another year of cheer at LNE! For try-out information and paperwork please join our Google Classroom using the code yzxfjva. We will also be having an informational meeting on February 16th at 7:00pm in the LNE Commons. This is for all students interested in cheerleading for the upcoming year in grades 8-11th! Please contact Coach Jessica Rowe at jrowe3@lps.org if you have any questions or concerns!
LNE Star Strutter Try-outs
Auditions for the 2022-2023 Lincoln Northeast Star Strutters are quickly approaching! An informational will be held Wednesday, February 16 at 6:00 p.m. at Lincoln Northeast in the Commons and is open to current 9th-11th grade students. It is highly encouraged you attend with a parent/guardian. We hope to see you there!
Spring Honors Convocation
Invitations for our Spring Honors Convocation will be going out to qualifying students at the beginning of February. If you have any questions about the Honors Convocation, please call the LNE Main Office.
Northeast works with Signature Graduation to provide you with graduation announcements and the ordering of caps and gowns. If you order apparel on the website, your apparel should arrive within two weeks of your ordering date. Otherwise, you will receive your other products sometime later in the year when all items are available to ship out. Your orders will be sent directly to the address you choose. Please visit https://signaturegraduation.com/ for more information.
Free & Reduced/Fee Waiver Cap and Gown Information
If you qualify for Free & Reduced lunch, please see Mrs. Ourada in the Main office to ask about the fee waiver process to get a cap and gown at no cost.
If you place an order through the online ordering system with Signature Graduation BEFORE you submit a fee waiver, you will not be able to get your money back.
For your planning purposes, the LNE Class of 2022 will graduate at Pinnacle Bank Arena on Saturday, May 28th, 2022 at 3:30 p.m. We look forward to celebrating your student's final year at Lincoln Northeast!
Prom is fast approaching and students who have outstanding fines and fees will not be able to purchase tickets from Prom. We encourage all students to check their fines/fees and get them paid or return overdue materials before tickets go on sale in April.
FAFSA- Make Sure You Complete the FAFSA Process!
Getting financial aid for college involves more than completing the Free Application for Federal Student Aid (FAFSA). Complete each step of the process so that you don't miss out on money for college.
If you haven't already, complete your 2022-23 FAFSA at studentaid.gov using 2020 income tax data. Before you start, you and a parent must each create a Student Aid account. If you need help with your FAFSA, contact EducationQuest to set up a free virtual appointment.
Expect a Student Aid Report (SAR) via an email link. The SAR acknowledges that your FAFSA was received and lets you know if you need to take further action before the form can be processed.
You might receive a verification notice from the college(s) you listed on your FAFSA requesting documents to verify your FAFSA information. The college will not process your financial aid until you provide required documents.
Watch for financial aid award notifications. Once you're accepted for admission to the colleges you listed on your FAFSA, they will notify you of the types and amounts of financial aid they're offering.
Watch your email and college student portal(s) carefully for important details from colleges about admission and financial aid.
News and Notes from the Main Office
Fines/Fees
Prom is fast approaching and 11 & 12 grade students who have outstanding fines and fees will not be able to purchase tickets for Prom. We encourage all students to check their fines/fees and get them paid or return overdue materials before the end of the school year.
Accessing Class Information in ParentVUE
Parents and students can access Class Information (course description, grading practices, class tips, etc) on the web (preferred) or via the mobile app. Written step-by-step directions are available, as are video tutorials.
Student Parking Reminders
A reminder that the LNE student parking lot is for 11th & 12th grade students who have purchased a parking tag. The lot is open to these students on a first-come-first-served basis. Purchasing a parking tag does NOT guarantee your student a parking spot. Tickets will be issued for students who do not have a parking decal or are parking outside of the assigned student parking area. For a complete list of parking rules and regulations please visit the LNE website.
https://lne.lps.org/student-parking-information/
Support for Students Learning While in Quarantine
We realize that quarantining due to health concerns can be a frustrating time for families and students. One way LPS can help is by connecting you with resources to continue your students' learning. Should you find your family in this situation, stop by the LPS.ORG website and enter the word "remote" into the Search, Keyword field in the top-right. Select "I am an individual student in quarantine" for additional supports.
LPS Help Desk is available
Need technical help while learning from home? The LPS Help Desk is available! Call 402-436-1735 between 7:00am-4:30pm Mon-Fri.
Safe Searching Tools
The LPS Key Concepts in Digital Citizenship emphasize students' ability to "Apply strategies for effective and efficient searches for information" and "Evaluate and select appropriate sources to answer questions." LPS Educators work hard to help students understand not every search should be a "Google" search. Students have access to high quality digital content, from school or home, linked from our library web page. These resources include: eBooks, encyclopedias in multiple languages, databases of periodicals and reference resources, streaming media, and more!
For more information, visit the library web page found on our school's website.
LNE Art: The Nature of Waste: Material Pathways, Discarded Worlds
The artwork featured sculpture, drawings, paintings, photography, and printmaking that represents humanity's waste and industry.
Photography students created photos using double exposure techniques. The photographs represent themes, such as Nature Vs. Industry.
Student artwork was created by Maria S.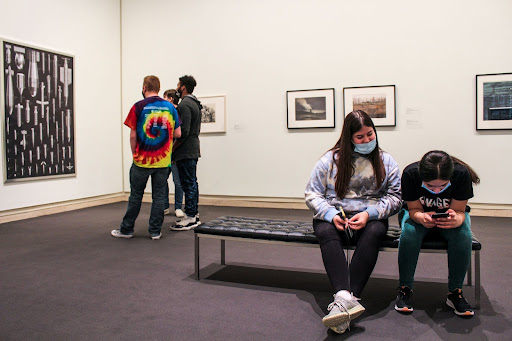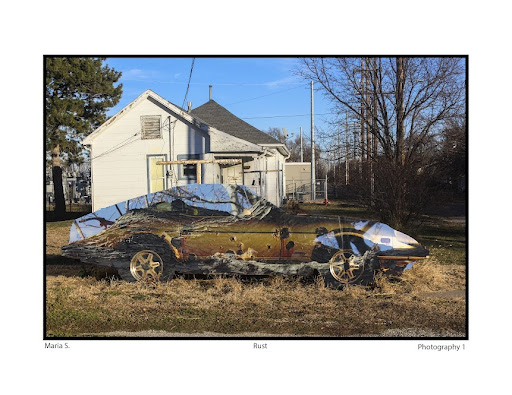 Athletic Office News & Notes
Preparing for Winter/Spring Sports
Students planning to participate in pre-season conditioning for Spring sports are reminded that they must complete the online participation packet by going to https://home.lps.org/athletics/packet/ . Parents complete Step 3. This is also where the physical examination form can be uploaded. Students complete Step 4 on their own device (Chromebook or phone). If you'd prefer, rather than going online, a hard copy of the participation packet may be picked up in the Athletic Office, room 171. Athletes must have a completed packet (physical & parent/student consents) on file in order to participate in any pre-season activities such as open gym, open field, weight lifting, etc.
Athletes not currently out for a Winter sport are highly encouraged to participate in pre-season activities. If you choose not to, packets must be on file by the start of tryouts/practices.
Tryouts for the Spring season (baseball, boys' golf, soccer, girls' tennis & track) start February 28.
*All fees & fines must be cleared prior to starting tryouts.
Show Your Rocket Pride!
Visit our Rocket Spirit shop to check out the latest Rocket Gear!
https://sideline.bsnsports.com/schools/nebraska/lincoln/lincoln-northeast-high-school
Follow us!
There are many athletic and activity events happening at Lincoln Northeast. If you are interested check out our participation on Twitter at the following: @RocketAthletics
Monday: Start Time 3:15 p.m.

Rocket House (Library): 7th, 14th, 21st, 28th
Cooking Club (052): 7th
Slam Poetry (110): 7th, 14th, 21st, 28th
ACTivate (Library): 7th, 14th, 21st, 28th
Sociedad Honoraria

Hispánica (236): 7th

Tuesday: Start Time 3:15 p.m. (*PLC start time 2:15 p.m.)

Board Games* (Library): 1st, 8th, 15th, 29th
Esports (011): 1st, 8th, 15th, 29th
FEWS2* (Library): 1st, 8th, 15th, 29th
Cedars* (commons): 1st, 8th, 15th, 29th

Wednesday: Start Time 3:15 p.m.

Rocket House (Library): 2nd, 9th, 16th, 30th
D&D (224): 2nd, 9th, 16th, 30th
Auto Club (056): 2nd, 9th, 16th, 30th
Korean Culture Club (111): 2nd, 9th, 16th, 30th
Campus Life (151): 2nd, 9th, 16th, 30th
Afghan Cultural Exchange (202): 30th

Thursday: Start Time 3:15 p.m.

Esports (011): 10th, 17th
Rocket House (Library): 10th, 17th
FEWS2 club (Library): 10th, 17th
PRISM club (250): 3rd, 17th

Friday: Start Time 3:15 p.m.

Board Games Club (Library): 4th, 11th, 18th
Step Chain (Commons): 4th, 11th, 18th
News & Notes from the Library
Access Amazing Library Resources from Home!
Did you know many of our fabulous library resources can be accessed from home? If your student is looking for educational games to play or fun activities to do online, we encourage them to check out the library resources at home! The library provides access to fun educational sites for students for free. To do this, go to your school library website and click on "Home Access" to get the login information. Many of the library's resources can also be accessed by logging into the portal from home. Go to portal.lps.org and type in your student's LPS ID number and password to see what is available for your student to access from home!
Digital Citizenship Tips
LPS teachers instruct students about digital law when they help students explore how terms of service agreements and privacy policies are important and have real-world implications. Topics for a family discussion might include:
What are terms of service agreements? (Rules you must follow when using an app or digital tool.)
Why should you be aware of terms of service agreements? What are the consequences of using apps not intended for students your age? (Many terms of service agreements include age requirements for the app or digital tool. If you use a tool that you are not old enough to use, your account may be canceled, your safety may be compromised, and you may see inappropriate content.)
LPS has procedures in place to ensure the apps and websites students are using adhere to the Children's Online Privacy Protection Act.
HelpNOW for Homework
Need a Tutor — for FREE? Need Help With Homework? HelpNow for Homework powered by Brainfuse through the Lincoln City Libraries provides free homework help and online tutoring. Chat with a tutor through instant messaging from 2:00 p.m. to 11:00 p.m., seven days a week for all ages in the areas of math, English, science, and social studies and more. Spanish-speaking tutors are also available.
You will be asked to enter your library card number (you will need to enter all fourteen digits with no spaces) or your 6 digit LPS student ID, and your password.
Need help? Stop by the library and we can help you!
The Health Office Needs Your Student's Covid-19 Vaccination Information!
Parents, if your student receives their COVID-19 vaccination, please have them bring a copy of their completed vaccine record to the Health Office so we can enter the information into Synergy. You may also email a screenshot to the school nurse at knelson@lps.org. PLEASE be diligent about checking your child's temperature and for possible Covid symptoms DAILY, BEFORE school and keep them home if they exhibit any symptoms.
News & Notes from the Counseling Center
All About Scholarships!
Most scholarships are based on academics, but others are based on community service, school involvement, or talent in art, dance, music, or athletics. Some are based on financial need as determined by the FAFSA (Free Application for Federal Student Aid).
It's time to start applying for scholarships. Here's where you can find them:
ScholarshipQuest at EducationQuest.org features over 2,000 Nebraska-based scholarships. After you create a profile, you'll be matched with scholarships that fit your criteria.
Student Google Classroom (2022, 2023, 2024, 2025). Visit regularly to check on local and national awards.
The college you plan to attend. Contact the school for a list of scholarships they provide and application procedures.
National search sites such as College Board, Peterson's and Chegg.
Other resources could include your coach, clubs and organizations, and your parents' employers and civic organizations.
For more details about scholarships and tips to help you complete a successful application, visit the EducationQuest website.
Two easy-to-apply-for scholarships from EducationQuest. Don't miss out on these scholarships for Nebraska students in grades 9-12:
Get Social Scholarship – By following EducationQuest on Facebook, Twitter and Instagram, you can enter into a drawing for a $500 scholarship each time we hit another 250 followers. Click here for details.
Scavenger Hunt Scholarship – To apply for this scholarship, create a ScholarshipQuest profile at EducationQuest.org and then scavenge around the EducationQuest website to find answers to questions on a survey. The deadline to apply is March 15. We'll draw two winners from those who answer all questions correctly. Click here for details.
Other Upcoming Scholarship Deadlines
February 2022 "To Do" List
Seniors
Complete the FAFSA (using 2020 tax returns) at FAFSA.gov. FAFSA Resources
Expect financial aid award notifications from the colleges you listed on your FAFSA.
Apply for scholarships.
Juniors
Prepare for the ACT. (See below for more information)
Course Selection for the 2022-2023
Course Selection for 2022-2023 classes has begun! Students will select courses using their Chromebook on Synergy during classroom-led sessions with LNE Counselors.
Parents will be able to review course selections on Synergy during the week their student selects courses.
Parents and Students are encouraged to look at graduation requirements in Synergy (Class History – located on the left-hand menu. Graduation Status – located in the upper right corner), and look at the on-line Course Guide to prepare for registration. In addition, registration information course selection menu is available on the LNE Counseling Website under the "Registration Resources" tab.
2022-2023 LNE Course Selection dates
February 7th – 11th: 11th to 12th Grade Course Selection
February 7th – 25th: 8th to 9th Grade Course Selection
ELPA (English Language Proficiency Assessment): Students who qualify for ELL will be taking the ELPA during the month of February through the beginning of March.
AP Exams
Students have access to resources online for their classes at https://myap.collegeboard.org/login
Students who are enrolled in Spring Semester only courses will need to make their decision to test by February 18, 2022 on the AP online system.
Junior ACT Test
All juniors will take the ACT Test for the Nebraska State Assessment on Tuesday, April 5, 2022. This test will be paid for by the district and students will register for the test at the school about 2 weeks before testing begins.
Testing begins at 8:00 a.m. Students are asked to bring a photo ID (student ID), #2 pencil and a calculator. Please do NOT bring electronic devices (cell phone, ipod, smartwatch, etc). Food, drinks, and electronic devices are not allowed in the classroom.
ACT Test Prep
Many high school students and families are thinking ahead to preparation for the ACT, the nation's most popular college entrance exam. All LPS students take the ACT exam at no charge as a junior in high school as part of statewide testing. Students also can pay a fee (or see their high school counselor to apply for a fee waiver) to take the test on national testing dates if they choose.
We would like to inform you about district-approved ACT preparation opportunities and college planning resources for students in Lincoln Public Schools:
In addition to the ACT-embedded curriculum your child receives within the high school courses, here are additional approved resources for ACT prep and college planning:
ACT Practice tests are located at actstudent.org. Click on this link (scroll to the bottom of this webpage for free resources)
LPS-sponsored ACT-SAT-PSAT workshop: https://home.lps.org/act-testprep/
EducationQuest – www.educationquest.org – Free college planning resources, including scholarship searches, college profiles, and assistance with the FAFSA (Free Application for Federal Student Aid). Headquarters in Lincoln at 1300 O Street – phone: 402-475-5222.
ACT Test Prep at Lincoln Northeast – There will be a free ACT Prep class opportunity at Lincoln Northeast in partnership with Educational Talent Search (ETS) on March 29, 2022.
Juniors will receive information about the prep class during Course Selection the week of February 7-11. For more information – Contact Claire Bartels with Educational Talent Search clairebartels@unl.edu
2021–2022 ACT TESTING DATES & REGISTRATION DEADLINES*
April 2, 2022 — February 25, 2022
June 11, 2022 — May 6, 2022
July 16, 2022 — June 17, 2022
SAT TESTING DATES AND REGISTRATION DEADLINES*
March 12, 2022 — February 11, 2022
May 7, 2022 — April 8, 2022
June 4, 2022 — May 5, 2022
*Fee Waivers are available for students with financial need. Talk to your school counselor if you have any questions! You can also visit collegereadiness.collegeboard.org/sat or act.org for more detailed information on the SAT or ACT test.Vist