May 2022 Rocket Messenger
Hello Rocket Families,
Happy May! What an exciting time of year as we begin to wrap up the 2021-2022 school year and prepare to celebrate our Graduating Seniors! The class of '22 holds a special place in my heart as we both started our journey at LNE together four years ago. It has been a joy to watch the Senior class learn, grow and persevere through the Pandemic! I continue to be in awe of the amazing work of our students and staff. And, before we know it, we will officially celebrate the Class of 2022. Looking forward to seeing you all at Pinnacle Bank on Saturday, May 28th, at 3:30.
Our focus for this school year continues to be: Effective Instruction, Culture for Learning and Equity. 
School Improvement Focus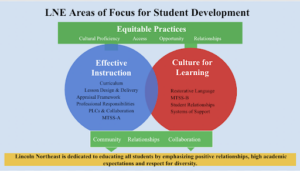 Our continued areas of focus for the 2021-2022 school year continue to be: Effective Instruction, Culture for Learning and Equity.
Equity
Student Advocate Addition: Tim Thompson, our new student advocate, has done a fantastic job meeting Scholars and Staff this past month. Tim's high energy and friendly smile have been a wonderful addition to our LNE team.
Culture
Our Multi Tiered Systems of Support (MTSS) Committee has organized Themed Thursdays for students and staff. The Committee thought it would be fun to bring some themed Thursday energy to the halls of LNE. Below is a look at the theme calendar:
| | |
| --- | --- |
| Date | Theme |
| 5/12 | School Spirit Day |
| 5/19 | End in Style ("Formal" Day) |
News and Notes
Restrooms
I know I said this last month, but restroom use continues to be an area of growth for us. There are a very large number of students who are absolutely using the restrooms in the manner in which they were intended to be used. Thank YOU.  
However, there continue to be a number of students who like to hang out and/or pack a number of themselves into the handicap stalls. Due to the physical layout of our building, it can be a challenge for security and admin to be in the needed spaces in an appropriate amount of time. In an effort to continue to focus on on-time arrival to classes and more efficiently supervise hallways and promote safety, I will be working with student services to problem solve how this can best be corrected. As a result it is possible that additional restrooms may be locked at various times throughout the day. 
May 9th

22-23 Show Choir/Marching Band Parent Meeting, 7:00 p.m. LNE Auditorium

May 11th

Air Force Visit- LNE Commons during lunch
Vocal music Nashville meeting, 7:00 p.m. in the LNE Auditorium
Stuco Student vs. Staff Basketball Game from 6:00-9:00 p.m.

May 12th

Army National Guard Visit- LNE Commons during lunch

May 18th

Music department Finale Concert at 6:30 p.m. in the LNE North Gym
Yearbook distribution during lunch in the Commons

May 19th

Senior Honors night- 7:00 p.m. in the LNE Auditorium

May 20th

Fee Waiver Cap & Gown Distribution
Yearbook Distribution during lunch in the Commons

May 21st

Sunrise Symphony Concert at 10:00 a.m. (Free event)

May 23rd

Day 1 of Finals (Periods 1, 2 and 3) 8:15 a.m.- 12:05 p.m.

May 24th

Day 2 of Finals (Periods 4 and 5) 8:15-10:45 a.m.
Senior Breakfast- 7:15 a.m. in the LNE North Concourse
Senior Meeting- 7:45 a.m. in the LNE Auditorium

May 25th

Day 3 of Finals (Periods 6 and 7) 8:15-10:45 a.m.

May 28th

LNE Graduation at 3:30 p.m. at Pinnacle Bank Arena

June 1st

First day of Summer School classes. See the Summer School Website for more information on class times and dates.

July 26th

Rocket Ready Days: More details to come in the 22-23 Summer Mailing

8:00 to 11:00 a.m.
3:00 to 6:00 p.m.

July 27th

Rocket Ready Days: More details to come in the 22-23 Summer Mailing

8:00 to 11:00 a.m.
3:00 to 6:00 p.m.

August 11th

Make-up Rocket Ready Days and 22-23 Open House, 1:00-5:00 p.m. More details to come in the 22-23 Summer Mailing
LNE Upcoming Event Information
Required Music Parent Meeting
There will be a required 22-23 Show Choir & Marching Band student/parent meeting on Monday, May 9th at 7:00 p.m. in the LNE Auditorium.
Yearbook Distribution and Sales
Students who purchased a 21-22 yearbook can pick up their yearbooks May 18th – 20th during the lunch hour in the commons. There will be extra yearbooks for sale on a first come, first served basis. They can be purchased for $70, cash or check only.
Make-A-Wish Student vs. Staff Basketball Game
Northeast Student Council is hosting a student vs. staff basketball game on May 11 from 6-9pm. All proceeds will go towards local Make-a-Wish recipients in our local community. Come cheer on your favorite student, or staff member, and help us support a great cause!!
Seniors, if you attended Kahoa Elementary during Elementary school, please be on the lookout for an email regarding the Senior Honor Walk that Kahoa will be hosting in May. For any questions, please contact the Kahoa Main Office.
Senior Honors Night Information
The Class of 2022 Senior Honors Night will take place on May 19th at 7:00 PM in the LNE Auditorium. Seniors who have earned Academic Honors (Graduation Honors, Departmental Honors, and Scholarship Recipients) will be recognized. Students and Parents/Guardians will be notified by email on May 6th if they will be recognized at the event.
Graduating SENIORS who did not attend a Senior EXIT meeting – PLEASE complete the three Goog Docs using the Jumpcodes posted in your Senior Class Google Classroom. See your school counselor if you have questions.
Graduation Decoration Drawing
LNE 2022 Graduates, Enter the drawing to win all of the 2022 Graduation Celebration decorations in the display case outside the main office. Use jump code PMGH. May 13th is the deadline to enter. Winner will be notified on May 17th.
Seniors may use the Jump Code BQO2 to request their final transcript. For questions regarding your final transcript, please contact our registrar, Anna Mabry.
Senior Breakfast & Senior Meeting
Seniors are invited to join each other for a free breakfast served by LNE staff on May 24th from 7:15 – 7:45 a.m. After breakfast, seniors will go to the LNE Auditorium for the last Senior Meeting at 7:45 a.m. If you are not able to join us for breakfast we HIGHLY ENCOURAGE all seniors to attend the senior meeting as we will be sharing important graduation information.
Senior Google Drive Downloads
Are you graduating or leaving LPS AND wanting to save the information on your Google Drive? Use Jump Code GTR7 for instructions on how to complete this task. Please note that those students graduating and those leaving LPS in May will no longer have access to their Google Accounts after the last day of school on May 25th. Please complete this process by the last day of school if you are wanting your Google Drive files.
LAST CHANCE Cap & Gown Orders!
The deadline for having graduation items ordered & shipped is May 18th. Students will still be able to place orders online after May 18th, but they will need to pick everything up from the Signature Graduation office. Their office is open Monday-Friday 9:00 a.m.- 5:00 p.m.
Their contact information is:
402-937-0812
sales@signaturegraduation.com
We are located at:
4535 Normal Blvd, Suite 195
Please visit https://signaturegraduation.com/ for more information.
Free & Reduced/Fee Waiver Cap and Gown Information
If you qualify for Free & Reduced lunch, please see Mrs. Ourada in the Main office to ask about the fee waiver process to get a cap and gown at no cost.
If you place an order through the online ordering system with Signature Graduation BEFORE you submit a fee waiver, you will not be able to get your money back.
For your planning purposes, the LNE Class of 2022 will graduate at Pinnacle Bank Arena on Saturday, May 28th, 2022 at 3:30 p.m. We look forward to celebrating your student's final year at Lincoln Northeast!
Please take the time to check your fines and fees and ensure that you have all overdue books or materials returned before the end of the school year. If you need to make a payment plan with your administrator, visit the main office to get that process started.
Lifetouch Graduation Photography Information
Seniors – Place your order now for commencement photos!
Visit events.lifetouch.com
Sign up and receive notifications when your photos are available
Order your graduation pictures online
What to expect:
Everyone will be photographed
Photos will be online at events.lifetouch.com 2-6 weeks after the ceremony
Complimentary proofs mailed to graduates
No obligation to purchase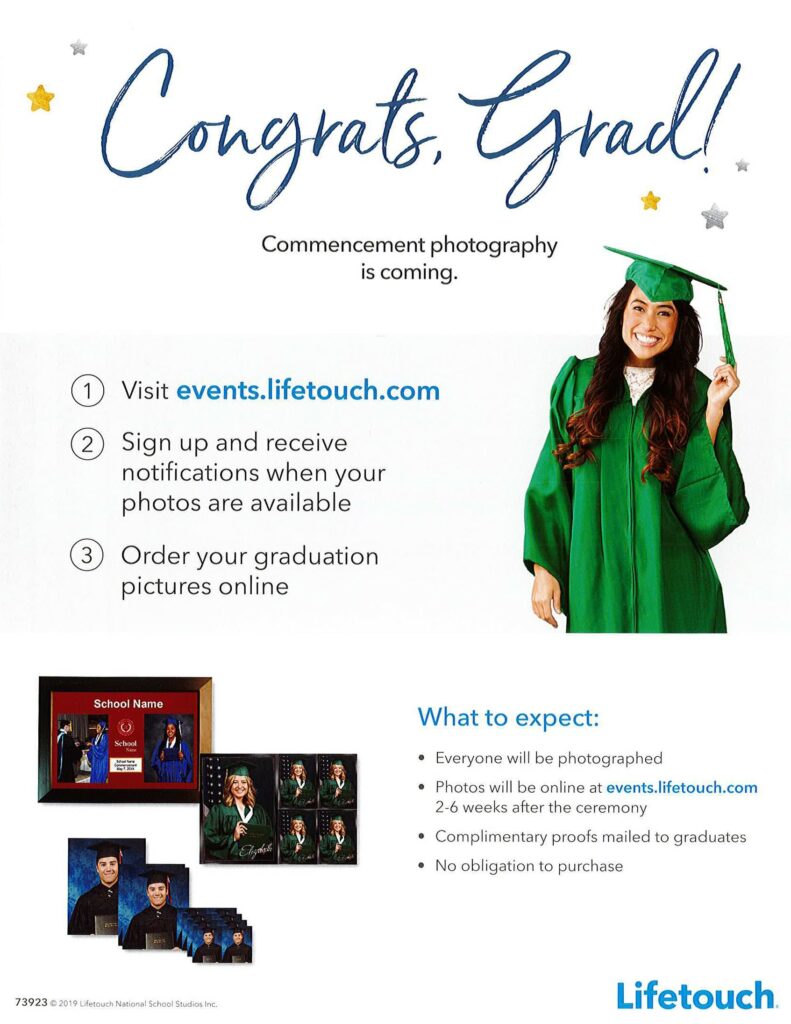 News and Notes from the Main Office
Main Office Summer Hours
The LNE Main Office summer hours are Monday – Friday from 7:30 a.m. – 3:30 p.m. We encourage parents/students to call ahead before you visit as there may be times that the office is closed due to staffing. (402) 436-1303
Update Your Contact Information
Do we have the most current contact information for you? It's important your student's school has a working phone number, email address and mailing address so we can contact you in the event of an emergency and share important back to school information over the summer. If any of your contact information has changed, please contact your student's school office to update it as soon as possible.
End of Year Technology Returns
Only graduating students will return their Chromebooks at the end of the school year. In the coming week, please make sure your student can locate the charger (2 pieces), the bag/carrying case, and the Chromebook that was issued to them at the beginning of the year. Graduating students will have an opportunity to return their Chromebooks during finals week, May 23rd – 25th. Students in grades 9-11 will keep their Chromebooks over the summer.
Any student that was issued an LPS Wireless HotSpot/Mobile Access Point, please note that those HotSpots need to be returned to Northeast during Finals Week.
Access to 4th Quarter Grades in ParentVUE
We wanted to alert you that starting on May 31st, the district will switch the student information system to the Summer School term. This means, through May 30th, you can review final grades in the ParentVUE Grade Book tab. After the 30th, you can access final grade information from the Documents tab or Course History tab. Please call the main office if you have any questions.
Fines/Fees
We encourage all students to check their fines/fees and get them paid or return overdue materials before the end of the school year. Students will be issued a fine for any materials not returned at the end of the school year. Students/parents are welcome to return materials at any point over the summer. Please call the Main Office for any questions you may have.
Great news! Students can now pay outstanding Synergy fees from StudentVUE! The students can log into StudentVUE, click on the Fee tab on the left, and then click the blue Pay Fees button at the top. That will open a new window to MySchoolBucks, where they will be able to enter payment information to pay for their fees. Functionality has not changed for parents… this is just newly added access for students.
Accessing Class Information in ParentVUE
Parents and students can access Class Information (course description, grading practices, class tips, etc) on the web (preferred) or via the mobile app. Step-by-step directions can be found on this document or in these video tutorials.
Our Media Center is undergoing a renovation to update facilities in order to better incorporate our new F.E.W.S.S. program. Construction will continue through the summer. We are thrilled to have such an amazing opportunity and encourage you to look at the renovation plans below.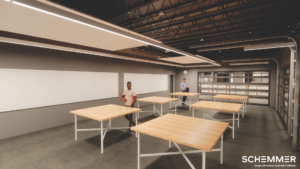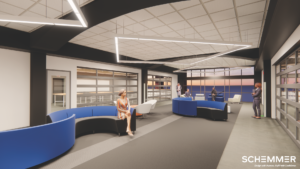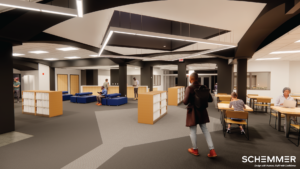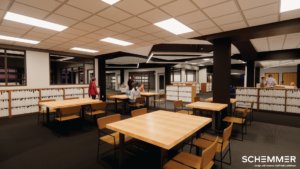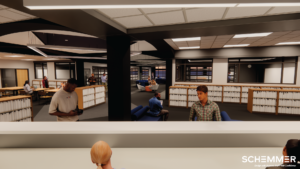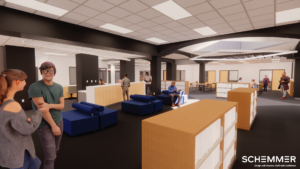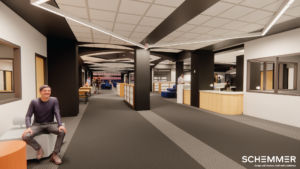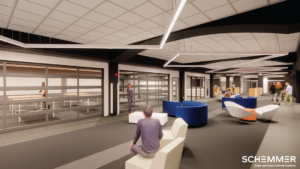 Congratulations to the following certificate winners of the American Mathematics Competitions 2021-2022 Young Women in Mathematics Program:
Leah Christensen
Mina Lahm
Ella Steffens
Thy Tran
Nice job Rocket Mathletes!
World Language Department
New Arabic for Arabic Speakers Course!
We are pleased to inform you that you are invited to participate in some new classes at Northeast High School. During the upcoming 2022-2023 school year courses will be offered for students who hear and speak Arabic at home.
Students in the course Arabic for Arabic Speakers will improve their reading and writing skills in Arabic, grow their vocabulary and practice their conversation skills. Only students who hear and speak Arabic at home are invited to participate. The purpose of the course is to help develop the language talent of bilingual students. Also, this year-long course will allow students to earn credits toward graduation from high school.

Students should take this course if they:
Want to maintain the Arabic they know
Want to read and write better in Arabic
Want to use Arabic in their future career
Want to use their Arabic to earn high school credit
If you would like to enroll in this course, please send an email to Melissa Hernández mhernan@lps.org. If you have any questions about this class, please call: (402) 436-1303. We look forward to working with you during the 2022-2023 school year in Arabic for Arabic Speakers class!
Clases para hispanohablantes
Nos da gusto informarle que está invitado a participar en una clase nueva en Northeast. Durante el año escolar que viene 2022-2023 se ofrecerá una materia nueva para estudiantes que oyen y hablan español en sus casas. Se le ha invitado participar debido a su especial capacidad académica con el español si decide inscribirse en la escuela Northeast.
Los estudiantes en el curso español para hispanohablantes mejorarán sus habilidades de lectura y escritura en español, aumentarán sus vocabularios y practicarán sus destrezas de conversación. Solamente a los estudiantes que hablan y oyen español en sus casas se les invita participar. El propósito del curso es ayudar al desarrollo del talento lingüístico de los alumnos bilingües. Además, este curso anual se les permitirá a los estudiantes obtener créditos que sirven para su graduación de la escuela preparatoria.
El/la estudiante debería inscribirse en este curso si:
1. Quiere mantener el español que ya sabe
2. Quiere leer y escribir mejor en español
3. Quiere utilizar el español en el trabajo en el futuro
4. Quiere aprovechar su español para obtener créditos para la preparatoria.
Si quisiera tomar esta clase, favor de mandarle a un mensaje la Maestra Melissa Hernández en correo electrónico: mhernan@lps.org. Si tiene alguna pregunta sobre esta clase, favor de comunicarse al (402) 436-1303. ¡Esperamos ansiosamente la oportunidad de trabajar juntos durante el año escolar 2022-2023 en la clase de español para hispanohablantes!
Atentamente,
Maestra Melissa Hernández
Maestra Llana Meza
2022-2023 Student Schedules
Student schedules for 2022-2023 will be available to view in Synergy mid-July. Counselors will be available for schedule adjustments prior to the beginning of school. Students will schedule 15-minute appointments on-line to see their counselor in person or via Zoom for a schedule adjustment. More detailed information will be included in a summer mailing. Stay tuned!
Request final high school transcript to send to the college you plan to attend.
Request college transcripts to transfer dual credit taken during high school.
Register for new-student orientation at your college.
2022–2023 National Testing Dates
The PSAT will be given at Lincoln Northeast on Saturday, October 15, 2022.
2022-2023 Sophomores & Juniors, please plan ahead. This test will take place the weekend of LPS Fall Break. For Juniors, the PSAT is the qualifying test for the National Merit Scholarship Program.
ACT National Test Dates & Registration Deadline
| Test Date | Registration Deadline |
| --- | --- |
| July 16th, 2022 | June 17th, 2022 |
| September 10th, 2022 | August 5th, 2022 |
| October 22nd, 2022 | September 16th, 2022 |
| December 10th, 2022 | November 4th, 2022 |
| February 11th, 2023 | January 6th, 2023 |
| April 15th, 2023 | March 10th, 2023 |
| June 10th, 2023 | May 5th, 2023 |
| July 15th, 2023 | June 16th, 2023 |
SAT Test Dates & Registration Deadlines
| Test Date | Registration Deadline |
| --- | --- |
| August 27th, 2022 | To be announced |
| October 1st, 2022 | To be announced |
| November 5th, 2022 | To be announced |
| December 3rd, 2022 | To be announced |
| March 11th, 2023 | To be announced |
| May 6th, 2023 | To be announced |
| June 3rd, 2023 | To be announced |
Fee Waivers are available for students with financial need. Talk to your school counselor if you have any questions! You can also visit collegereadiness.collegeboard.org/sat or act.org for more detailed information on the SAT or ACT test.
Please call the Health Office to make arrangements for any student medication that has been kept at school. Any medications that are not picked up by the last day will be destroyed.
All elevator keys must be turned in to the Health Office no later than May 25th to avoid a $25 fine. Please call 402-436-1303 option 6 with any questions.
Athletic Office News & Notes
Clinics are offered through all 7 LPS High Schools and are conducted by the individual sport coaches at their respective locations. Clinics are offered in various sports and are available for students entering grades 3-12 for the 2022-2023 school year.
High School Athletics Registation: Coming Soon!
Registration for high school athletics and activities for the 2022-2023 school year will be starting soon. The process is changing this year and will now be completed in Synergy ParentVUE. Parents, if you do not yet have a ParentVUE account, please contact the office at the high school where your student is enrolled for assistance with creating the account as you will need at least one parent/guardian account to register for athletics and activities.
Visit our Rocket Spirit shop to check out the latest Rocket Gear!
There are many athletic and activity events happening at Lincoln Northeast. If you are interested check out our participation on Twitter!
News & Notes from the Library
Library Books are Due by the End of the Year
The end of the school year is approaching and that means that it is time to return books to the school library. To see the titles that your student needs to return before the end of the year follow these steps:
Begin at portal.lps.org
Enter your student's ID and password.
Select "Destiny Discover" from the alphabetical listing in the portal.
From the upper right hand corner of the screen, select login and enter your student's ID and password once again.
In the upper left-hand corner of the Destiny Discover page select the icon of the three parallel lines.
Select "Checkout" from the dropdown menu to see the books that are currently checked out.
Digital Citizenship Tips
Another important piece of Digital Citizenship is Access and Evaluation. Students have learned how to search for information effectively online, and how to evaluate online sources. Students also learned how audience, purpose, and perspective can influence media sources. Discuss at home what your favorite sources of reliable information are, and encourage your student to think critically about what they read online.
Monday: Start Time 3:15 p.m.

Rocket House (Library): 7th, 14th, 21st, 28th
Cooking Club (052): 7th
Slam Poetry (110): 7th, 14th, 21st, 28th
ACTivate (Library): 7th, 14th, 21st, 28th
Sociedad Honoraria

Hispánica (236): 7th

Tuesday: Start Time 3:15 p.m. (*PLC start time 2:15 p.m.)

Board Games* (Library): 1st, 8th, 15th, 29th
Esports (011): 1st, 8th, 15th, 29th
FEWS2* (Library): 1st, 8th, 15th, 29th
Cedars* (commons): 1st, 8th, 15th, 29th

Wednesday: Start Time 3:15 p.m.

Rocket House (Library): 2nd, 9th, 16th, 30th
D&D (224): 2nd, 9th, 16th, 30th
Auto Club (056): 2nd, 9th, 16th, 30th
Korean Culture Club (111): 2nd, 9th, 16th, 30th
Campus Life (151): 2nd, 9th, 16th, 30th
Afghan Cultural Exchange (202): 30th

Thursday: Start Time 3:15 p.m.

Esports (011): 10th, 17th
Rocket House (Library): 10th, 17th
FEWS2 club (Library): 10th, 17th
PRISM club (250): 3rd, 17th

Friday: Start Time 3:15 p.m.

Board Games Club (Library): 4th, 11th, 18th
Step Chain (Commons): 4th, 11th, 18th